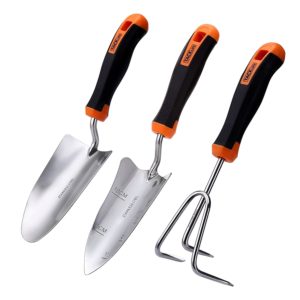 (5 reviews)
Lowest price to-date!
This garden set makes the perfect stocking stuffer for that garden enthusiast in your home. At 75% off, this is a steal!
Tacklife – Professional team on Amazon, which deals only with development of the tools.
We commit ourselves to using qualitative tools to improve the quality of life.
Heavy duty stainless steel not easily broken
Made of heavy duty stainless steel, high hardness, durable, not easy to rust and broken
Professional garden tools is your good choice if you have a certain pursuit of quality
Perfect gift for any horticultural enthusiast, health fun, children's labor experience
Multiple product functions
Trowel size : 13 × 3.54 inches
Trowel – digging planting, taking up plants used for transplanting smaller plants or flowers without damaging the roots
Transplant trowel size : 13 × 2.76 inches
Transplant trowel – with tick marks, to get plant depth, so that small plants and flowers transplanted easily
Cultivator size : 11 × 3.54 inches
Cultivator – unique three-prong design easily removes weeds and loose soil
Warm Tips
1. After use, lock the blades of shears and store in a place out of reach to children.
2. Always clean and dry the gardening tools after each use.
3. Weeding tools can choose Tacklife GGT2A
4. Pruning tools can choose Tacklife GGT3A
5. Raking tools can choose Tacklife Lawn Aerator Shoes
Package Contents
1 x Tacklife GGT1A Trowel
1 x Tacklife GGT1A transplant trowel
1 x Tacklife GGT1A Cultivator
1 x User Manual
1 x 24 month Warranty Card