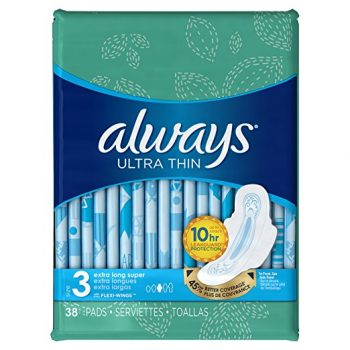 (18 reviews)
Lowest price to-date!
Right now, you can pick up this 38-count pack of Always Ultra Thin Pads Size 3, Extra Long, Super Absorbency With Wings & Unscented for $6.97 with FREE shipping with a qualifying order of $49 or more!
Are you sure you're getting the right fit? The wrong fit can lead to leaks. Step up in size to help stop leaks.
Now Always MY FIT helps you get the best protection by tailoring your pad to fit your flow AND panty size.Use the sizing chart in the images to find your fit.
Provides 45% better coverage where you need it most (Vs. Always Ultra Regular with wings.).
LeakGuard Core absorbs in seconds for up to 10 hours of protection.
For our best daytime protection, Always Ultra Thin, Size 3, Extra Long Super Pads With Flexi-Wings have a flexible design to protect comfortably and move with you.
Add-on items can only be purchased with a qualifying orders that include $25 or more of items shipped by Amazon (marked by the Free Super Saver Shipping, Amazon Prime or Add-On Item icon).