Amazon's new Add-On Items program allows you to purchase individual items that previously were not available from Amazon as an add-on to a qualifying order of $25 or more!
That means that more items are available in single quantities — rather than only in bulk purchases of 6 or 12 —  without the extra shipping cost of buying from a third-party.
Here's how it works:
Add-on Items are marked with a special icon and a special title bar on the "Add to Cart" button: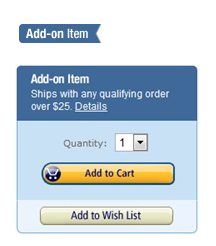 These items can only be purchased with a qualifying orders that include $25 or more of items shipped by Amazon (marked by the Free Super Saver Shipping, Amazon Prime or Add-On Item icon).
Can I purchase an Add-On Item by itself and pay shipping?
Add-On Items are not available for purchase without a qualifying $25 order, so you can't purchase an individual add-on item and choose to pay shipping on it.
Do Add-On Items count toward the $25 minimum order?
Yes, all Add-On Items count toward the $25 minimum order requirement. That means you could order $25 worth of Add-On Items or mix-and-match Add-On Items with other Super Saver Shipping/Prime-eligible items.
If I'm an Amazon Prime member, do I still need to purchase $25 or more?
It's important to note that add-on items can only be purchased with orders of $25 or more, even for Amazon Prime members, due to the prohibitive cost of shipping these items on their own.
What happens if I try to check out without a $25 qualifying order?
If you attempt to check out with less than $25 in your cart, the Add-On Items will be removed from your cart and saved for later.