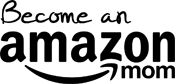 Amazon Mom
is a program for moms, dads and other caregivers of little ones. Get special discounts, such as 20% of diapers and wipes, exclusive discounts and FREE Amazon Prime Two-Day Shipping!
Begin receiving benefits immediately when you sign up for a FREE three-month trial:
Save 20% on diapers and wipes.
Three months of Amazon Prime Two-Day Shipping FREE.
Save 20% off each item when you place more than five Subscribe & Save orders in a month.
Exclusive offers for Amazon Mom members.
To continue your membership after your three-month trial, you'll need to register for Amazon Prime for $79/year. See all of the Amazon Prime benefits here.
Sign up for your Amazon Mom trial today!