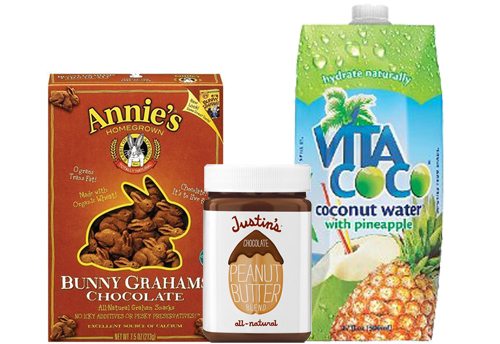 Here are July's sales & special offers from Amazon Grocery
. Some of these products (such as the Silk Milk and De Cecco pasta) are currently unavailable, but we'll check back regularly and let you know when the best are available again!
Beverage, Coffee,Tea & More Special Offers
25% off O.N.E. Coconut Water
30% off Vita Coco
25% off Silk Soy & Almond Milk
40% off Taster's Choice & Coffee-mate Creamer
25% off Ito En and Alo
35% off Rishi Tea25% Sipping Chocolate, Tea & More25% off FIJI Water
25% off Penta Purified Water
50% off Body Choice Beverages
25% off Kombucha Wonder Drink
25% off Zola and Jamba Juice Acai
25% Switch Juice
25% off Illy Issimo Coffee Drinks
Click here for all beverage, coffee & tea offers
.
Snacks, Meals & Condiments Special Offers
30% off Kellogg's Snacks
20% off Annie's Homegrown Products
25% off Justin's Nut Butter Spreads
30% off Fischer & Wieser Sauces & Salsa
25% off Tasty Bite Products
25% off Miracle Noodle
25 55 % De Cecco Pasta
25% off Pacific Natural Foods Soup
Click here for all snacks, meals and condiments offers
.
Pet Special Offers
30% off Mighty Dog Dog Food
25% off Wet Noses Dog Treats
20% off Castor & Pollux Food & Treats
Click here for all pet offers
.
July Gourmet Special Offers
15% off $20+ of Nuts+Nuts Products
25-50% off Crazy Cups K-Cup Variety packs
10% off Select GourmetGiftBaskets.com Gifts
10% off $50+ of Art of Appreciation Gift Baskets
FREE Steak Burger wyb $75+ of Filet Mignon from Entrees to Excellence
Click here for all gourmet special offers
.