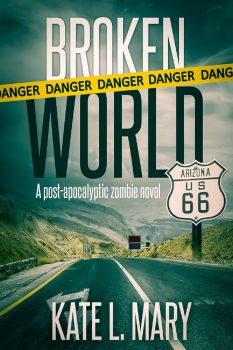 Right now, Broken World by Kate L. Mary is FREE for the Kindle!
The Amazon best-selling Broken World series follows a group of survivors as they struggle to find safety in a world overtaken by the dead. From Route 66 to California to Colorado, Vivian and Axl work to build a new life out of the shattered pieces of civilization, fighting both man and monster along the way. Reviewers agree that the Broken World series is an "Absolutely gripping apocalyptic novel!", "The best zombie apocalypse series!", "You will be hooked!", and "This series will be hard to beat!" Grab book one in the series while it's on sale, and discover what readers are raving about!
Even if you don't have a Kindle, you can read the ebook on a variety of devices (including your computer) using one of Amazon's free reading apps.