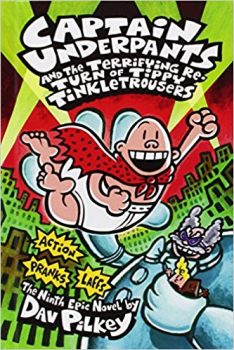 (188 reviews)
Lowest price so far!
Tra-la-laaa! Captain Underpants is back in an all-new epic adventure that's the zaniest, funniest, outrageousest, and time-travelingiest yet!
When we last saw our heroes, George and Harold, they were under arrest and headed for prison. Then Harold foolishly uttered the fateful words "What could be worse than going to jail for the rest of our lives?" and changed the course of human history.
In this ninth epic novel, Dav Pilkey takes readers back in time to the carefree days of kindergarten, when the worst thing George and Harold had to face was NOT evil mad scientists or alien cafeteria ladies but a sixth-grade bully named Kipper Krupp, the nephew of their clueless school principal. And because George and Harold don't actually invent Captain Underpants until fourth grade, the two clever kindergartners are on their own — using their brains to beat the bully.
Hold on to your UNDERPANTS — the Captain is back!
Search for cart fillers for items to help you reach the $49 FREE Super Saver Shipping level. Or if you haven't yet tried Amazon Prime, sign up for a 30-day trial and get FREE 2-day shipping!