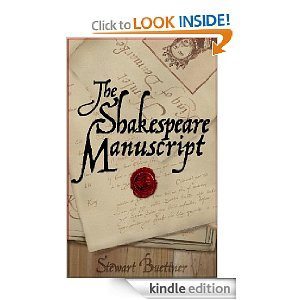 Looking for more books for your Kindle? Here are today's freebies:
The Shakespeare Manuscript
by Stewart Buettner
Genre: Suspense
Reviews: 5 stars (15 reviews)
The Glory of Green (The Green Series)
by Judy Christie
Genre: Contemporary Fiction
Reviews: 5 stars (6 reviews)
No Turning Back (Descendants of Ancients)
by Sharon T. Rose
Genre: Science Fiction
Reviews: 4 stars (1 review)
Going Harvey in the Big House
by Douglas Smith
Genre: Science Fiction
Reviews: No reviews yet!
Praise Jerusalem!
by Augusta Trobaugh
Genre: Literary Fiction
Reviews: 4.5 stars (9 reviews)
Find more Kindle freebies here. Remember that Amazon.com prices change all the time, so be sure to verify that each book is still free before you "purchase" it!