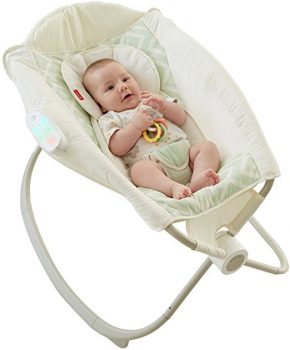 (145 reviews)
Lowest price to-date!
Get the Fisher-Price Deluxe Auto Rock 'n Play Sleeper with Smart Connect for just $69.99 now!
Sleeper and playtime rocker seat in one – with Smart Connect technology.

Comfy incline, plush body insert and head support help baby catch those zzzzz's.

For issues, please call Fisher-Price Customer Service: 800-432-5437.

Hands-free rocking motion controlled from your smart device; Through your smart device, you can control:Music and sounds with volume controlCustomizable calming vibrationsAbility to save your baby's favorite settingsControl length of naptime or nighttime rocking.

Age Grade: Use only with a child unable to sit up unassisted or grasp side of seat and pull upward.

This is the ultimate sweet dream machine controlled from your smart device.

Hands-free rocking, Two rocking speeds; Lightweight design with compact fold makes it easy to stow or go!

Plays calming music and soothing sounds.