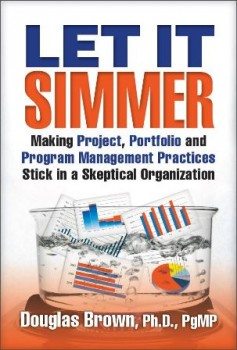 Let It Simmer: Making Project, Portfolio and Program Management Practices Stick in a Skeptical Organization is on sale for $0.99 today. The price will rise throughout the week, so be sure to get it today!
If your organization is having difficulty delivering on commitments, operates in tight silos, and generally seems to stumble its way from one crisis to the next, then Let It Simmer is just for you.
Often the problem is that such organizations are advised to "follow best practices". But best practices are what the bet organizations do — because they can. Yours needs to get to the point where these practices are even possible. Until it does, efforts to force-feed changes will be met with indifference, passive resistance or outright rebellion. And they may be right to respond in that way: they've seen this fad come and go before. Not this time!!
Let It Simmer provides a pathway to convert that resistance into cooperation through key principles and collaborative activities you can launch to gain trust and increasing confidence from the managers you're trying to convert.
Even if you don't have a Kindle, you can read the ebook on a variety of devices (including your computer) using one of Amazon's free reading apps.