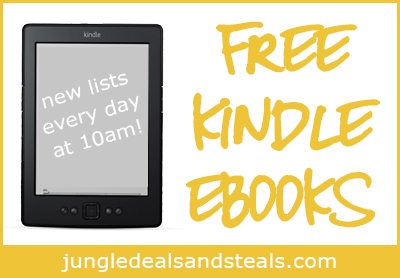 Looking for more books for your Kindle? Here are today's Kindle freebies!
Fiction
Doesn't She Look Natural? (The Fairlawn Series Book 1)
by Angela Hunt
Genre: Family Life
Reviews:

(100 reviews)
THE HELMSMAN: Director's Cut Edition (The Helmsman Saga Book 1)
by Bill Baldwin
Genre: Science Fiction
Reviews:

(49 reviews)
The Call to Duty: The Holy Flame Trilogy
by C.J. Peterson
Genre: Christian
Reviews:

(11 reviews)
Gabby, Angel of God: Guardian and Messenger: ( A Supernatural Romance Thriller )
by Greg Sandora
Genre: Religious
Reviews:

(41 reviews)
Children's
Danza's Message (Pumpkinheads)
by Karen Kilpatrick
Genre: Self esteem
Reviews:

(12 reviews)
Children Books:Ron Sleeps Alone(Adventure)funny(Emotions &Feelings)picture book 3-8 Early/Beginner Reader(parenting)manners(sleep)preschool Self-Esteem … Books for Early / Beginner Readers 2)
by Sigal Adler
Genre: Emotions & Feelings
Reviews:

(5 reviews)
Floppy the Mystery Dog and The New Kid
by Diana R. Starr
Genre: Dogs
Reviews:

(23 reviews)
Non-Fiction
1-Minute Habits: Optimise Your Brain, Form Any Habit And Live A Fulfilled Life
by Raghib Ahmed
Genre: Psychology
Reviews:

(2 reviews)
Where Startup Ideas Come From: A Playbook for Generating Business Ideas
by Mike Fishbein
Genre: Business
Reviews: No reviews yet!
25 Habits of Super Happy Couples: Powerful Lessons to Make Your Relationship Happier
by K.F. Dennis
Genre: Marriage
Reviews:

(2 reviews)
Essential Oils – A Beginner's Guide To Lose Weight, Increase Energy And Stay Young & Healthy With Essential Oils (Aromatherapy And Essential Oils, Essential … Weight Loss, Essential Oils For Beginners)
by John Web
Genre: Aromatherapy
Reviews:

(10 reviews)
Find more recent Kindle freebies here. Remember that Amazon.com prices change all the time, so be sure to verify that each book is still free before you "purchase" it!