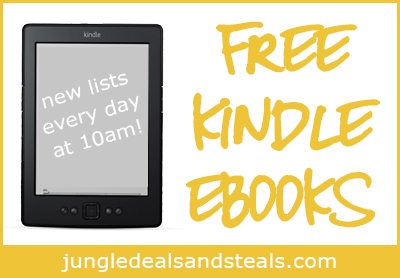 Looking for more books for your Kindle? Here are today's Kindle freebies!
Fiction
ZANE'S BRAIN: The Book of One
by Karol Bajnowski
Genre: Psychological
Reviews:

(5 reviews)
Waiting For Rachel: A Christian Romance (Those Karlsson Boys)
by Kimberly Rae Jordan
Genre: Christian Romance
Reviews:

(54 reviews)
Sweet Water: A Novel
by Christina Baker Kline
Genre: Contemporary
Reviews:

(79 reviews)
A Tunnel is Only a Hole on Its Side (The Hole Trilogy)
by James Minter
Genre: Humor
Reviews:

(2 reviews)
Children's
The Travels of Jasper the Penguin: Jasper is never afraid of trying new things.
by Alice Wood
Genre: Short stories
Reviews:

(4 reviews)
Bubba the Bulldog Tries to Smile
by Bree Clausen
Genre: Dogs
Reviews:

(38 reviews)
Non-Fiction
How To Change Your Life One Day At A Time – The Ultimate Guide To Change Your Life In 30 Days (How To Change Your Life, How To Change Your Life One Day … Things When Change Is Hard, How To Change)
by Katie Houston
Genre: Self help
Reviews:

(7 reviews)
What is Bitcoin and how to do Bitcoin Investing: A complete guide to Bitcoin Investing
by Jennifer Kettles
Genre: Investing
Reviews: No reviews yet!
Freelance Jobs. How to start a sucessful career online: (Odesk, Freelancer, Elance, Fiverr, People per hour) The Freedom to Work Anywhere in the World
by The Successful Freelancer
Genre: Home based
Reviews:

(2 reviews)
The Ultimate Toddler Manual: An Everyday Guide to Parenting, Disciplining, & Understanding Your Little One
by Giselle Harris
Genre: Parenting
Reviews:

(6 reviews)
Find more recent Kindle freebies here. Remember that Amazon.com prices change all the time, so be sure to verify that each book is still free before you "purchase" it!