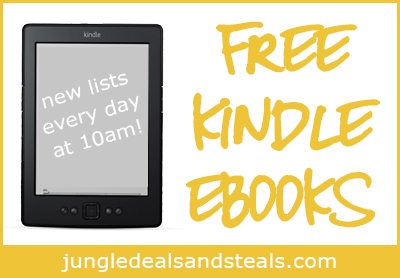 Looking for more books for your Kindle? Here are today's Kindle freebies!
Fiction
Alyssa and Dalton
by Laurel Veil
Genre: Thrillers
Reviews: No reviews yet!
The Transhumanist Wager
by Zoltan Istvan
Genre: Science Fiction
Reviews:

(202 reviews)
Eleven Days: An Unexpected Love (Days Trilogy Book 1)
by Lora Lindy
Genre: Suspense
Reviews:

(122 reviews)
Children's
SICK AGAIN (rhyming, bedtime, reading, children, kids, short, stories)
by Peter Collier
Genre: Rhyming
Reviews:

(8 reviews)
Children's book: Candy Kid and his Adventures (Start eating Healthy food) (A beautifully Illustrated picture book for kids) (Healthy happy children)
by Danny Calderon
Genre: Beginner Readers
Reviews:

(24 reviews)
The Easter Egg Square (Easter & Lent, Humorous Stories)
by Charles Akins
Genre: Holidays
Reviews:

(12 reviews)
Non-Fiction
Daniel Fast Smoothies: The Essential Book Of Easy, Quick And Nourishing Smoothie Recipes (Dairy Free, Vegan)
by Dee Wallace
Genre: Cookbooks
Reviews: No reviews yet!
Holiday Candies and Cakes (Delicious Mini Book)
by June Kessler
Genre: Chocolate
Reviews:

(14 reviews)
The Cornuta Curse (Love Locks series, Book 1)
by A. Scott
Genre: Travel
Reviews:

(3 reviews)
Ramen Is Revolutionary: A Book for Beginners and Fans
by Yoshihiro Kaneda
Genre: Cookbooks
Reviews:

(3 reviews)
The Girl Behind The Door: A Father's Journey Into The Mystery Of Attachment
by John Brooks
Genre: Memoirs
Reviews:

(24 reviews)
Find more recent Kindle freebies here. Remember that Amazon.com prices change all the time, so be sure to verify that each book is still free before you "purchase" it!