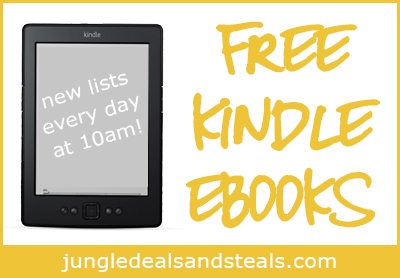 Looking for more books for your Kindle? Here are today's Kindle freebies!
Fiction
To Catch a Bad Guy (Book One) (Janet Maple Series)
by Marie Astor
Genre: Suspense
Reviews:

(583 reviews)
Pieces: A Life in Eight Movements and a Prelude
by John Von Daler
Genre: Novel
Reviews:

(6 reviews)
Children's
Kizmo the Chimp, Goes Into Outer Space (Kizmo & Kevin Children's Book Series)
by Cassandra Ingram
Genre: Space
Reviews:

(5 reviews)
If Dogs Could Do Chores – A Children's Picture Book
by Jacquelyn Smith-Induni
Genre: Dogs
Reviews:

(15 reviews)
Children's EBook: HOW THE COW JUMPED OVER THE MOON (Happy Children's Series – Book 4 — Fun, Rhyming Picture Book/Bedtime Story about Trying Something New and Being Adventurous, ages 2-8)
by Sally Huss
Genre: Bedtime & Dreaming
Reviews:

(22 reviews)
Non-Fiction
Hypothyroidism: The Ultimate Guide to Increased Energy, Lasting Weight Loss and Living Well with Hypothyroidism
by Nick Bell
Genre: Medical
Parenting: Raising The Best Kids
by Kendell Fox
Genre: Parenting
Reviews: No reviews yet!
Noah: Why God Saved Him
by Josh Austin
Genre: Spirituality
Reviews: No reviews yet!
She Does Not Fear the Snow
by Bobbie Ann Cole
Genre: Memoirs
Reviews:

(25 reviews)
WRITE, BABY, WRITE: You Can Do It!
by Shelly Miller
Genre: Writing
Reviews:

(1 review)
Find more recent Kindle freebies here. Remember that Amazon.com prices change all the time, so be sure to verify that each book is still free before you "purchase" it!