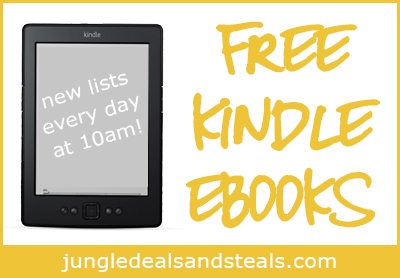 Looking for more books for your Kindle? Here are today's Kindle freebies!
Fiction
Finding Southern Comfort: A Heartwarming Prequel (Windy City Romance)
by Barbara Lohr
Genre: Romance
Reviews:

(18 reviews)
Ruby – Book 1 Come By Chance Mail Order Brides: Sweet Montana Western Bride Romance (Come-By-Chance Mail Order Brides)
by Juliet James
Genre: Historical
Reviews:

(65 reviews)
Salt: A Post-Apocalyptic Mystery
by Colin F. Barnes
Genre: Action
Reviews:

(109 reviews)
Children's
Frosty the Snowman: Bedtime Stories & Christmas Jokes for Beginning Readers (Christmas Books for Children)
by Arnie Lightning
Genre: Christmas
Reviews: No reviews yet!
What Makes Me Special – Gru the caterpillar. (Children books – Garden Friends series Book 1)
by Rose McKey
Genre: Social Situations
Reviews:

(20 reviews)
More Than Things: A Children's Book about Gifts
by Jen Burns
Genre: Activity books
Reviews:

(20 reviews)
Non-Fiction
Manifesting Good Health: 30 Best Ways to Manifest Your Perfect Health and Wellness You Desire
by John Franks
Genre: Health
Reviews: No reviews yet!
Diabetic Slow-Cooker Recipes (In The Kitchen Cooking Book 1)
by June Kessler
Genre: Diet
Reviews:

(17 reviews)
Time Management for a productive life (Personal Development for Beginners Book 2)
by Eddie de Jong
Genre: Personal success
Reviews:

(11 reviews)
Find more recent Kindle freebies here. Remember that Amazon.com prices change all the time, so be sure to verify that each book is still free before you "purchase" it!