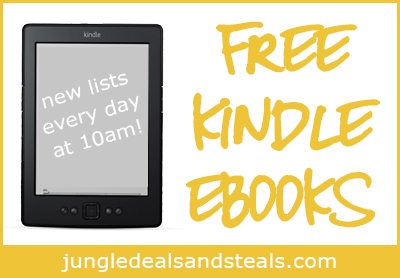 Looking for more books for your Kindle? Here are today's Kindle freebies!
Fiction
Fomorian Earth: Star Borne: 1
by Lars Bergen
Genre: Science Fiction
Reviews:

(9 reviews)
Murder on The Mind (A Jeff Resnick Mystery Book 1)
by L.L. Bartlett
Genre: Mystery
Reviews:

(1,280 reviews)
Head Games
by Chuck Rose
Genre: Thrillers
Reviews:

(24 reviews)
Children's
Don't Judge An Alligator By Its Teeth! (Benjamin's Adventures Book 1)
by Kevin Ocasio
Genre: Imagination
Reviews:

(6 reviews)
My Name Is Not Isabella
by Jennifer Fosberry
Genre: Historical
Reviews:

(87 reviews)
My Name Is Not Alexander
by Jennifer Fosberry
Genre: Social skills
Reviews:

(24 reviews)
Non-Fiction
Kitchen Addiction! Recipes: A Storybook Cookbook from the mystery novel, Kitchen Addiction!
by Lizz Lund
Genre: Novel
Reviews: No reviews yet!
Work From Home: 3 Easy And Proven Strategies For Beginners To Make Money Online Starting Today!
by Nick Logan
Genre: Home based
Reviews:

(7 reviews)
I Lead Therefore I am: Make Them Believe in You With These Leadership Skills! (Business Insider Book 1)
by Tiffany Barker
Genre: Business
Reviews:

(5 reviews)
Find more recent Kindle freebies here. Remember that Amazon.com prices change all the time, so be sure to verify that each book is still free before you "purchase" it!