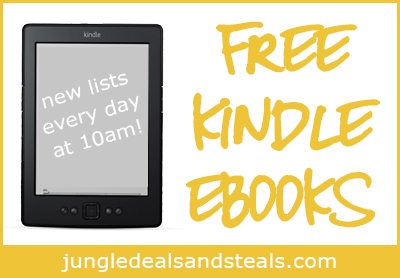 Looking for more books for your Kindle? Here are today's Kindle freebies!
Fiction
Who's Afraid Now: An SIB Detective Sgt Billy Williams short story (Royal Military Police crime thriller and mystery series Book 1)
by Wendy Cartmell
Genre: Thrillers
Reviews:

(7 reviews)
Due Justice: Judge Willa Carson Mystery (The Hunt For Justice Series Book 1)
by Diane Capri
Genre: Mystery
Reviews:

(207 reviews)
Children's
Abraham Lincoln Biography for Kids (Just the Facts Book 8)
by IP Factly
Genre: Presidents
Reviews:

(6 reviews)
Louie's Big Day
by Maria I. Morgan
Genre: Interactive
Reviews:

(41 reviews)
Children's book: Daddy, Help me get dressed (Happy Motivated children's books Collection)
by Yonit Werber
Genre: Bedtime
Reviews:

(31 reviews)
A Christmas Carol (Enriched Classics)
by Charles Dickens
Genre: Classics
Reviews:

(177 reviews)
Non-Fiction
Fruit Infused Water – 30 Easy Vitamin Water Recipes For Weight Loss, Health And Maximum Hydration (Fruit Infusion, Fruit Infused Drinks, Vitamin Water)
by john Web
Genre: Diets
Reviews:

(16 reviews)
Love Quotes: 1000's of Romantic Sayings & More Organized by Subject
by ROMEO
Genre: Romance
Reviews: No reviews yet!
Low Glycemic Index Diet: Lose Weight Without Starving, Enjoy Eating Foods Without Guilt!
by Tony Milton
Genre: Diets
Reviews:

(7 reviews)
God: Fact or fantasy. What do you believe?
by George Rowland
Genre: Religious
Reviews: No reviews yet!
Find more recent Kindle freebies here. Remember that Amazon.com prices change all the time, so be sure to verify that each book is still free before you "purchase" it!