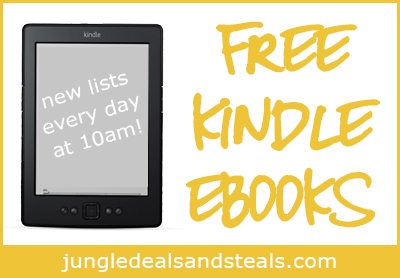 Looking for more books for your Kindle? Here are today's Kindle freebies!
Fiction
Murder in the Winter (Book 2 Dekker Cozy Mystery Series)
by Steve Demaree
Genre: Mystery
Reviews:

(136 reviews)
Amish Love Of A Lifetime (Amish Romance)
by Sadie Palmer
Genre: Amish
Reviews:

(33 reviews)
In Between (Katie Parker Production Book 1)
by Jenny B. Jones
Genre: Contemporary
Reviews:

(207 reviews)
The Princess Problem (A Fairy Tale Romance)
by Diane Darcy
Genre: Contemporary
Reviews:

(213 reviews)
Children's
Children books:bedtime stories collection(values kids)Adventure Education(goodnight stories)kids poetry(animals stories)(beginner readers fiction)early … reader picture books stories Book 1)
by Sigal Adler
Genre: Bedtime
Reviews:

(2 reviews)
Numbers!: Take the Dog Out
by Lynne Dempsey
Genre: Words
Reviews:

(14 reviews)
A Childrens Bible Story: David And Goliath. Are You David Or Goliath?
by Maura Kempa
Genre: Christian
Reviews:

(8 reviews)
Why is the Sky Blue? And Other Nature Questions Kids Ask! (An Innovative Learning Book for Children Ages 6 to 12) (The "Why?" Series 3)
by Jem Brooks
Genre: Science
Reviews: No reviews yet!
Non-Fiction
The Power of Patience: 96 Traits of Highly Effective People: A Dip in the Minds of Successful Folk, From Leaders to Laymen (The Wheel of Wisdom Book 5)
by Karma Peters
Genre: Personal success
Reviews:

(4 reviews)
Lifehacks: 144 More or Less Obvious Things That Will Make Your Life Easier (Improve Your Productivity Personal Life, Health, Fitness and Bank Account)
by Matt Harris
Genre: Stress Management
Reviews:

(6 reviews)
The Office Workout: 75 Exercises to do at Your Desk
by Kent Burden
Genre: Healthy Living
Reviews:

(14 reviews)
Find more recent Kindle freebies here. Remember that Amazon.com prices change all the time, so be sure to verify that each book is still free before you "purchase" it!