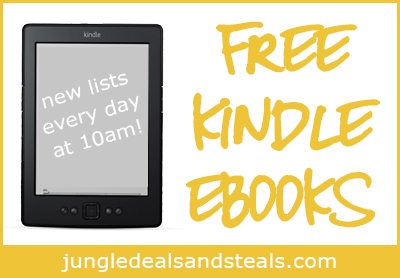 Looking for more books for your Kindle? Here are today's Kindle freebies!
Fiction
Wood's Relic: An Early Mac Travis Adventure (Early Mac Travis Adventures Book 1)
by Steven Becker
Genre: Adventure
Reviews:

(35 reviews)
Leaving Liberty
by Virginia Carmichael
Genre: Mystery
Reviews:

(112 reviews)
Lucky In Love (Lucky O'Toole Vegas Adventure)
by Deborah Coonts
Genre: Mystery
Reviews:

(15 reviews)
Children's
The Elephant Who Wanted To Be A Bee (WantsToBe Book 2)
by Valerie Harmon
Genre: Elephants
Reviews:

(24 reviews)
Children's bedtime stories: "Pink Button" (Children's books for ages 3-7)
by Miley Smiley
Genre: Crafts
Reviews:

(9 reviews)
Norbert (Norbert series Book 1)
by James Sutherland
Genre: animals
Reviews:

(52 reviews)
Non-Fiction
The Art Of Life: Simple Handbook with Powerful Improvement Capacity (Life Coaching, Life Balance, Life, Life Coach, Life Change, life energy, Self esteem)
by Lacticia L.
Genre: Personality
Reviews:

(6 reviews)
Emotional Abuse (Emotional Assualt, Abusive Relationship, Emotional Abuse, Codependency, Stop Abusing, Emotional Control, Emotional Healing): How to Overcome … Life (Emotional Abuse, Emotional Recovery)
by Candice Keith
Genre: Emotions
Reviews:

(5 reviews)
HOLISTIC FITNESS: Emotional Muscles, Action, Motivation, and Personal Success (Coaching, Motivation, Success, Self-Confidence Book 1)
by Marta Tuchowska
Genre: Motivational
Reviews:

(18 reviews)
Slow Cooking Guide for Beginners: The Top Essential Slow Cooking Tips & Recipes for Beginners! (Slow Cooking, Slow Cooking Recipes, Cooking For One, Dinners,Suppers, … For One, Quick & Easy Cooking, Crockpot)
by Claire Daniels
Genre: Cooking
Reviews:

(7 reviews)
Find more recent Kindle freebies here. Remember that Amazon.com prices change all the time, so be sure to verify that each book is still free before you "purchase" it!