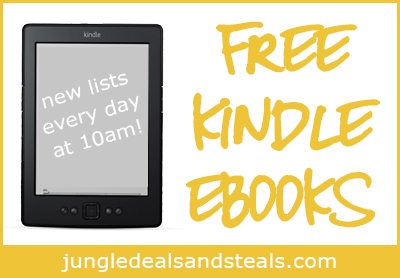 Looking for more books for your Kindle? Here are today's Kindle freebies!
Fiction
Fresh Doubt (Ingrid Skyberg FBI Thrillers – Book 1)
by Eva Hudson
Genre: Thriller
Reviews:

(255 reviews)
HAYWIRE: A Pandemic Thriller (The F.A.S.T. Series Book 2)
by Shane MBrown
Genre: Thrillers
Reviews:

(8 reviews)
Welcome to Antioch College: Book One of The Antioch Adventures (The Antioch Adventures Serial 1)
by Mitch Goth
Genre: Teen
Reviews:

(30 reviews)
Children's
Times to Remember, The Fun and Easy Way to Memorize the Multiplication Tables
by Sandra Warren
Genre: Math
Reviews:

(19 reviews)
Spot the Duck: A Silly Rhyming Children's Picture Book
by Gerald Hawksley
Genre: Ducks
Reviews:

(6 reviews)
Children's Books: EVERYTHING HAS A HEART (Fun, Adorable, Rhyming Bedtime Story/Picture Book for Beginner Readers, About Hearts and Love, ages 2-6)
by Sally Huss
Genre: Christian
Reviews:

(23 reviews)
Non-Fiction
WINGS: A Journey in Faith from the Earthly to the Heavenly – Part 3
by Carolyn Molica
Genre: Christian
Reviews:

(2 reviews)
Whitening Teeth: Quickly and Safely Whiten Your Teeth for a Permanently Brighter Smile (White Teeth, Whitening Teeth, Opalescence Book 1)
by Benjamin Tideas
Genre: Dental
Reviews:

(15 reviews)
Body Butter: Homemade Body Butter – 33 BEST Body Butter Recipes To Making Body Butter For A Soft And Nourished Skin!: Proven Homemade Recipes To Making … Skin (Homemade Body Butter Recipes Book 1)
by Sarah Joy
Genre: Beauty
Reviews:

(18 reviews)
Issa Asad Instant Profits with Instagram: Build Your Brand, Explode Your Business
by Issa Asad
Genre: Marketing
Reviews:

(3 reviews)
Find more recent Kindle freebies here. Remember that Amazon.com prices change all the time, so be sure to verify that each book is still free before you "purchase" it!