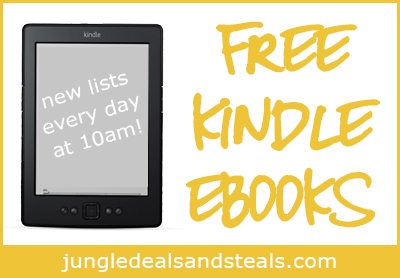 Looking for more books for your Kindle? Here are today's Kindle freebies!
Fiction
Post-Human Series Books 1-4
by David Simpson
Genre: Science Fiction
Reviews:

(514 reviews)
Timescan: Science Fiction Short Stories
by Alexai Vavioski
Genre: Science Fiction
Reviews:

(2 reviews)
Unexpected Gifts (A Castle Mountain Lodge Romance Book 1)
by Elena Aitken
Genre: Holidays
Reviews:

(375 reviews)
Unstoppable (Nature of Grace Book 3)
by S.R. Johannes
Genre: Thrillers
Reviews:

(18 reviews)
Children's
Almost Perfect
by Diane Daniels Manning
Genre: Dogs
Reviews:

(66 reviews)
Fun in the Kitchen The Ultimate Kids' Cookbook: Featuring Easy Recipes That They Can Do On Their Own With Trivia
by Ana Bridge
Genre: Cooking
Reviews: No reviews yet!
Children Book : I Wish I Had Visited The Niagara Falls (Great Picture Book for Kids)(Ages 4 – 12)
by Dan Jackson
Genre: Travel
Reviews: No reviews yet!
Non-Fiction
Coming To Jesus: One Man's Search for Truth and Life Purpose
by Britt Gillette
Genre: Theology
Reviews:

(17 reviews)
Lemon: 50 Plus Recipes for Skin Care, Hair Care, Home and Laundry Cleaning along with Lemonade, Vegan, Curd, Cookies, Cakes and Desserts
by Adish Books
Genre: Healthy
Reviews:

(105 reviews)
The Complete Acts of the Apostles Trivia Book: Over 1,000 Bible Trivia Questions Inside! (Books of the Bible Trivia Series Book 3)
by Tyra Buburuz
Genre: Trivia
Reviews: No reviews yet!
Find more recent Kindle freebies here. Remember that Amazon.com prices change all the time, so be sure to verify that each book is still free before you "purchase" it!