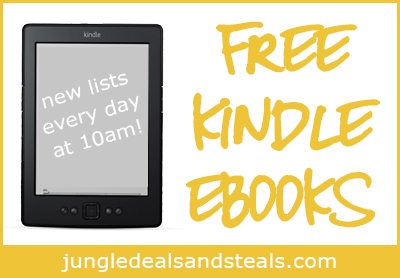 Looking for more books for your Kindle? Here are today's Kindle freebies!
Fiction
It Came Upon a Midnight Crime: Squeaky Clean Mysteries, Book 2.5 (a Christmas novella)
by Christy Barritt
Genre: Christian
Reviews:

(92 reviews)
Winter in Sweetwater County
by Ciara Knight
Genre: Family Life
Reviews:

(38 reviews)
The Barry Island Murders
by Andrew Peters
Genre: Short stories
Reviews:

(8 reviews)
Children's
Courtship of the Monster Under the Bed
by Barry Soloway
Genre: Bedtime
Reviews:

(16 reviews)
Johnny's Decisions: Economics for Kids: Tradeoffs
by Jeff Felardo
Genre: Economics
Reviews: No reviews yet!
Children's Book: Let it Snow! (Fun Winter Short Stories for Kids): Fun Winter Stories for Kids + Funny Jokes (Perfect for Bedtime Stories & Beginner Readers) (Cute Short Stories for Kids)
by Arnie Lightning
Genre: Imagination
Reviews: No reviews yet!
Non-Fiction
How To Start an Online Store: The Complete Step-by-Step Beginners Guide To Starting Your Online Business
by Jonathan Eldridge
Genre: Home based
Reviews:

(10 reviews)
Private Real Estate Investment – Part III: Special Topics
by Dr Roger J Brown
Genre: Real Estate
Reviews: No reviews yet!
The Power of Networking
by Rodney White
Genre: Management
Reviews:

(6 reviews)
Find more recent Kindle freebies here. Remember that Amazon.com prices change all the time, so be sure to verify that each book is still free before you "purchase" it!