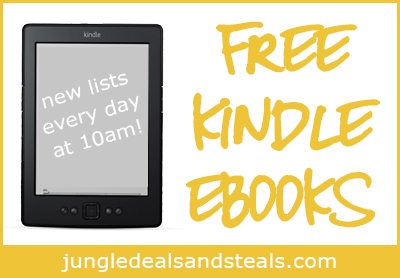 Looking for more books for your Kindle? Here are today's Kindle freebies!
Fiction
A Medical Affair
by Anne McCarthy Strauss
Genre: Thrillers
Reviews:

(75 reviews)
My Christmas Curse
by Joan Gable
Genre: Holidays
Reviews:

(42 reviews)
The Sleuth Sisters
by Maggie Pill
Genre: Mystery
Reviews:

(15 reviews)
Children's
102 Puzzle Quizzes (Interactive Puzzlebook for E-readers)
by The Grabarchuk Family
Genre: Puzzles
Reviews:

(148 reviews)
The DIY Balloon Bible For All Seasons: How To Wow Your Friends and Impress Your Relatives With Amazing, Easy Balloon Decorations
by Sandi Masori
Genre: Decorating
Reviews:

(26 reviews)
The Jesus Tree
by Carey Thomas
Genre: Christmas
Reviews:

(77 reviews)
Non-Fiction
Boost: Create Good Habits Using Psychology and Technology
by Max Ogles
Genre: Happiness
Reviews:

(21 reviews)
Own Your Niche: Hype-Free Internet Marketing Tactics to Establish Authority in Your Field and Promote Your Service-Based Business
by Stephanie Chandler
Genre: Marketing
Reviews:

(55 reviews)
Tiny House Living: 75 Tips and Ideas On How To Organize, Declutter and Make The Most Of Your Tiny Home……..Design(Tiny House,Tiny Homes)
by Hannah Laviolette
Genre: Design
Reviews:

(2 reviews)
Find more recent Kindle freebies here. Remember that Amazon.com prices change all the time, so be sure to verify that each book is still free before you "purchase" it!