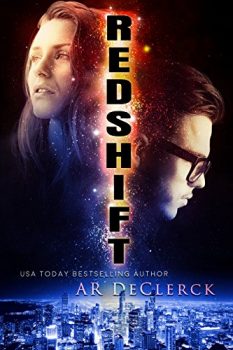 Right now, Redshift by AR DeClerck is on sale for $0.99 for your Kindle!
When a mysterious wormhole appears on the edge of a Nevada town, Rand Hazen and his team race to study it. Together with his partner and the love of his life, Rand knows he can be the first physicist to prove that time travel is possible. In a devastating twist of fate, the wormhole goes into flux, and when Rand opens his eyes all of Verity Pines is gone, taking with it his lover. Rand knows that he will do anything to find her, even going so far as to jump into the hole to follow her. Rand vows to himself that he won't say her name until he sees her face again. On the other side of the wormhole Rand finds himself in a place he never imagined: the far, far future. The world as he knows it is about to end, but none of that matters; all he cares about is finding HER. Through a shining silver city and into a vast desert, Rand will comb this world until he finds her, or until the world itself burns around him.
Even if you don't have a Kindle, you can read the ebook on a variety of devices (including your computer) using one of Amazon's free reading apps.