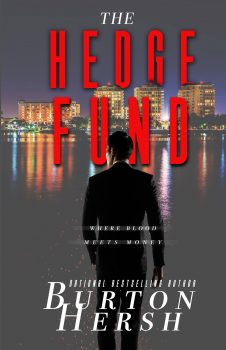 Right now, The Hedge Fund is FREE for the Kindle!
Since 1959 Fidel Castro's Cuba has struggled along ninety miles off the coast of Florida, treated alternately as a threat and an economic basket case by the American Colossus.
Several generations of immigrants, mostly from Havana, have all but taken over Miami and found their way quickly into political and financial power. The Hedge Fund deals imaginatively with how all this plays out when the boisterous daughter of a wealthy, established St. Petersburg family, the Landaus, marries the son of a ruthless, upward-striving Cuban financier whose overnight rise depends on his connection to the Trafficante wing of the surviving Cosa Nostra.
The patriarch of the St. Petersburg contingent, Sylvan Landau, is a witty, mordant Jewish savant in his mid-sixties. Through investments in up-market real estate Sylvan has accumulated a fortune; when his new son-in-law's father, Ramon Perez y Cruz, presents Sylvan with the chance to mortgage his best properties into a hedge fund Ramon controls and cash in on beach properties in Cuba when the regime relents, Sylvan cannot resist.
Sylvan's son Michael, the narrator of the novel, a lawyer in his early thirties who has grown up in his father's shadow, remains dubious from the start. Before long Michael has recruited the rangy brother of his Comanche lover Linda, Sonny. A seasoned military scout, Sonny directs a night raid on Ramon's offices to recover crucial paperwork, Ramon responds; Sonny and Sylvan find themselves under attack by machine gun halfway into a boat ride through the Everglades.
Why is soon plain enough. Ransacking Ramon's documents, Michael discovers that Ramon has been collecting huge payoffs smuggling assets out of Cuba for members of the collapsing Castro regime. Word leaks; before long both the Castroite hard-liners and the Trafficante backers of Ramon are gunning for both families. Everything culminates in the landmark National Hotel in Havana, where the powerful denouement plays itself through.
Even if you don't have a Kindle, you can read the ebook on a variety of devices (including your computer) using one of Amazon's free reading apps.