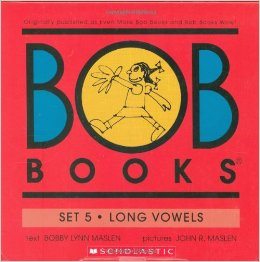 (106 reviews)
Lowest price to-date!
Bob Books Set 5- Long Vowels (on sale now for just $9.60) introduces the important new skills of long vowels and the magical silent e. These two new concepts stimulate your reader by opening the door to longer stories and more complex spellings. Children's reading vocabularies grow quickly as they finish the longer stories in eight books, 16 to 24 pages.
Set 5 includes the most complex words and sentences of any of the Bob Books series, building upon earlier reading skills learned in Bob Books Sets 1 – 4. Once your child has mastered Set 5, he or she will be ready to move on to reading chapter books. It's an exciting, transformative moment that you will share with your child.
Inside the box you'll find:
8 books, 16-24 pages each.
Introduction of the magic, silent e.
Vowel combinations (such as oe, ai, ea).
Up to 300 words per book.
Search for cart fillers for items to help you reach the $35 FREE Super Saver Shipping level. Or if you haven't yet tried Amazon Prime, sign up for a 30-day trial and get FREE 2-day shipping!