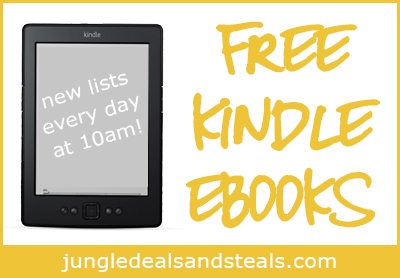 Looking for more books for your Kindle? Here are today's Kindle freebies!
Fiction
Made with Love: I Love You Forever (A Modern Contemporary Romance Book)
by M.K. Shaddix
Genre: Romance
Reviews:

(17 reviews)
A Family for Christmas
by Mona Ingram
Genre: Romance
Reviews:

(37 reviews)
Against The Odds (Anna Dawson #1) (Anna Dawson's Vegas)
by Mara Jacobs
Genre: Thrillers
Reviews:

(196 reviews)
When Girlfriends Chase Dreams
by Savannah Page
Genre: Humor
Reviews:

(26 reviews)
Children's
When I'm With Jesus: For Any Child with a Loved One in Heaven
by Kimberly Rae
Genre: Christian
Reviews:

(46 reviews)
Your Daddy Loves You
by Tom Choquette
Genre: Fatherhood
Reviews:

(52 reviews)
Christmas Stories for Kids: Fun Christmas Short Stories for Kids + Christmas Jokes! (Christmas Books for Children)
by Uncle Amon
Genre: No reviews yet!
Reviews: Christmas
Non-Fiction
Home Free – A Guide to Buying a Rental Property as Your First Home (Financial Freedom Book 1)
by Joshua Youpa
Genre: Business
Reviews:

(7 reviews)
Christmas Drink Recipes: Simple & Easy Christmas Drink Recipes to Make at Home! (Hot Chocolates, Ciders, Lattes, and MORE!) (Simple & Easy Christmas Recipes)
by Hannie P. Scott
Genre: Coffee and tea
Reviews: No reviews yet!
Why Bother With Bonds: A Guide To Build All-Weather Portfolio Including CDs, Bonds, and Bond Funds–Even During Low Interest Rates (How To Achieve Financial Independence)
by Rick Van Ness
Genre: Investing
Reviews:

(9 reviews)
Find more recent Kindle freebies here. Remember that Amazon.com prices change all the time, so be sure to verify that each book is still free before you "purchase" it!