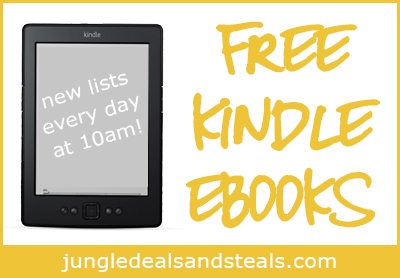 Looking for more books for your Kindle? Here are today's Kindle freebies!
Fiction
A Twist of Date (Better Date than Never)
by Susan Hatler
Genre: Romance
Reviews:

(36 reviews)
The Heartbreak Cafe (Lakeview #1)
by Melissa Hill
Genre: Romance
Reviews:

(3 reviews)
Murder is a Drag (Slade Investigates)
by J RenRaw
Genre: Mystery
Reviews: No reviews yet!
Children's
Puppies: Puppy Book For Kids! Learning The Fun Way To Love & Care For Your First Dog
by Gary Dickinson
Genre: Dogs
Reviews:

(12 reviews)
Queen-a-Bella Finds a Best Friend (An Illustrated Children's Picture Book about Tolerance and Making New Friends)
by Lisl Fair
Genre: Rabbits
Reviews:

(69 reviews)
Three Wee Peas (Farm Fun!)
by Laura Yirak
Genre: Classics
Reviews:

(18 reviews)
Non-Fiction
The Anger Management Cure – An Easy Step-by-Step Guide to Overcoming Anger Forever
by Sally Chiles
Genre: Mood Disorders
Reviews:

(3 reviews)
Control Viewers! Make Your Color Photography "POP!" (On Target Photo Training)
by Dan Eitreim
Genre: Photography
Reviews:

(80 reviews)
Pasta of Italy: Over 100 Recipes Classic, Traditional, Regional
by Giantranco Focarelli
Genre: Pasta
Reviews: No reviews yet!
Reflections: Prayers from the Heart of a 14 – Year Old Boy
by Michael Alexander Beas
Genre: Christianity
Reviews:

(7 reviews)
Find more recent Kindle freebies here. Remember that Amazon.com prices change all the time, so be sure to verify that each book is still free before you "purchase" it!