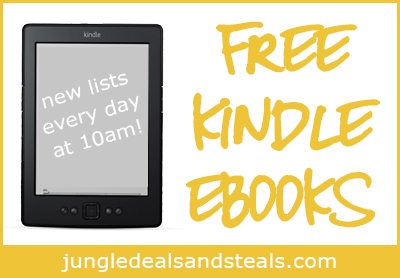 Looking for more books for your Kindle? Here are today's Kindle freebies!
Fiction
Louisiana Lament : A Humorous New Orleans Mystery; Talba Wallis PI Series #3 (The Talba Wallis PI Series)
by Julie Smith
Genre: Mystery
Reviews:

(65 reviews)
Coming Unclued
by Judith Jackson
Genre: Humor
Reviews:

(2 reviews)
Crazy in Love (Contemporary Romance) (Blue Lake Series Book 3)
by Kristin Miller
Genre: Romance
Reviews:

(11 reviews)
Children's
Knock Knock Jokes for Kids!: 50+ Funny Knock Knock Jokes for Kids (Funny and Hilarious Joke Books for Children Book 2)
by Johnny B. Laughing
Genre: Jokes
Reviews:

(2 reviews)
children's books – Longing & Discover the Future (Teaching kid's Feelings & Emotion Book 15)
by Chaim Gold
Genre: Emotions & Feelings
Reviews:

(11 reviews)
Breakaway: Clan of the Ice Mountains
by C.S. Bills
Genre: Action
Reviews:

(53 reviews)
Subtraction for Kindergarten and Preschoolers: Easy Fun Way to Learn the Concept of Subtraction
by C. Ingram ECE
Genre: Math
Reviews: No reviews yet!
Non-Fiction
Making Play Doh for Kids
by Terri Garr
Genre: Crafts
Reviews: No reviews yet!
Organic Lotion: Recipes for Beginners: How to Create Homemade Organic Lotions For Beauty, Nourishment, and Skin Healing (Treat Your Skin Naturally with … Organic Lotion Recipes Made for Beginners)
by Marlene Ray
Genre: Candlemaking
Reviews:

(6 reviews)
Diabetes Cure: Rid Your Life From Diabetes Forever (Bonus FREE 3x Downloadable Audio CD's)
by Mitch White
Genre: Healthy
Reviews:

(5 reviews)
Find more recent Kindle freebies here. Remember that Amazon.com prices change all the time, so be sure to verify that each book is still free before you "purchase" it!