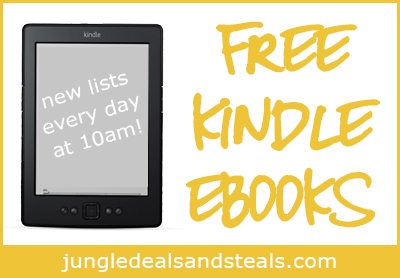 Looking for more books for your Kindle? Here are today's Kindle freebies!
Fiction
The Final Salute
by Kathleen M. Rodgers
Genre: War
Reviews:

(104 reviews)
Even Now (Lost Love Series Book 1)
by Karen Kingsbury
Genre: Christian
Reviews:

(141 reviews)
Snow Angel (A Hope Falls Novel Book 5)
by Melanie Shawn
Genre: Romance
Reviews:

(41 reviews)
Children's
My Dad is a Superhero
by Lily Lexington
Genre: Parents
Reviews:

(377 reviews)
Janie and the Magic Box Christmas
by Julie Dweck
Genre: Christmas
Reviews:

(26 reviews)
104 Funny Christmas Knock Knock Jokes for kids (Best knock knock jokes) (Series 3 ) (The Joke Book for Kids)
by Ryan Williams
Genre: Jokes
Reviews:

(6 reviews)
Non-Fiction
Plug In to Your Child, Ages 4-9: How to Connect to Your Child's Heart and Motivate Them to Great Behavior by Teaching Clear Expectations, Boundaries, and Limits.
by Mendi Everett
Genre: Child care
Reviews:

(2 reviews)
Cleaning Hacks: Saving Time, Money, Health and the Environment DIY (Cleaning, Organizing, Natural cleaning, Cleaning Hacks, Declutter, House cleaning, Efficient cleaning)
by Rosemary Philipps
Genre: Cleaning
Reviews:

(1 review)
Simple Steps To A Clean And Organized Home: How To Organize And Keep Your Home Clean Without The Stress (The No Stress, How To Clean Your House Spotless … And Organize Your Home Fast Series)
by Health Living
Genre: Self help
Reviews:

(6 reviews)
Find more recent Kindle freebies here. Remember that Amazon.com prices change all the time, so be sure to verify that each book is still free before you "purchase" it!