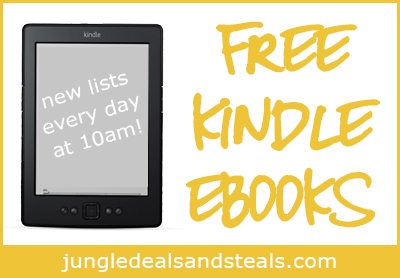 Looking for more books for your Kindle? Here are today's Kindle freebies!
Fiction
I am God
by Kai Meka
Genre: Christianity
Reviews: No reviews yet!
Thin Ice (The Oshkosh Trilogy)
by Anthea Carson
Genre: Suspense
Reviews:

(13 reviews)
The Drake Equation: Discovery of the Saiph: Book 1 (The Saiph Series)
by PP Corcoran
Genre: Science Fiction
Reviews:

(19 reviews)
Children's
Tinky and the Baby Butterflies (Tinky's Adventures)
by Susan Spira
Genre: Dogs
Reviews:

(6 reviews)
Duck and Friends: The Dinosaur Bones
by Donna McFarland
Genre: Ducks
Reviews:

(14 reviews)
Watch Out For The Bears!
by Gillian Rogerson
Genre: Bears
Reviews:

(4 reviews)
Non-Fiction
Why Can't I Get Pregnant?! – A Tell All, Step By Step Manual About Invitro Fertilization (IVF) Infertility
by Xavier Harris
Genre: Fertility
Reviews:

(1 review)
The Quick & Easy Paleo Family Cookbook: Healthy & Tasty Recipes Your Family Will Love (OVER 75 Delicious Recipes w/ PICTURES)
by Tiffany Harris
Genre: Cooking
Reviews:

(1 review)
The Nature of His Love
by Jason Tax
Genre: Christian Living
Reviews:

(7 reviews)
Life Organizing Get Results: How to Gain Motivation and Happiness From New Focus at Home and Work
by Nigel Openshaw
Genre: Self help
Reviews: No reviews yet!
Find more recent Kindle freebies here. Remember that Amazon.com prices change all the time, so be sure to verify that each book is still free before you "purchase" it!