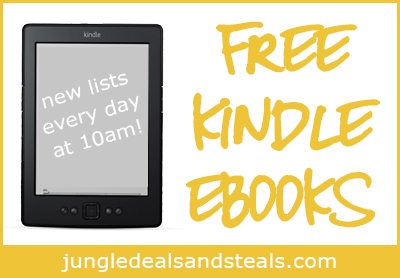 Looking for more books for your Kindle? Here are today's Kindle freebies!
Fiction
The Frog Prince
by Burns Well
Genre: Humor
Reviews: No reviews yet!
The Pitcher
by William Hazelgrove
Genre: Sports
Reviews:

(120 reviews)
The Eden Plague (Plague Wars Series Book 0)
by David VanDyke
Genre: Thrillers
Reviews:

(142 reviews)
Children's
Children's Book: Kala's Special Flowers (Happy Motivated children's books Collection)
by Yonit Werber
Genre: Social
Reviews:

(11 reviews)
Children's books:OH DEAR SAID THE DEER:children's beginner readers early reader books collection(children's learning picture books)values(Preschool)Adventure … Books for Early / Beginner Readers books)
by Sigal Adler
Genre: Animals
Reviews:

(29 reviews)
I Can Draw Animals 2 (Step-by-Step Drawing)
by Darwin Adams
Genre: Art
Reviews:

(8 reviews)
Non-Fiction
How To Make Your First ,000 With Online Surveys
by Chris Guthrie
Genre: home based
Reviews: No reviews yet!
Natural Beauty Secrets: Easy Homemade Coconut & Essential Oil Recipes for Radiant Skin and Hair
by Tara Evans
Genre: Essential oils
Reviews:

(20 reviews)
Trade the Bounce: A Powerful Strategy for Trading Stocks (Stock Trading Strategies Book 1)
by Bill Shakespeare
Genre: Business
Reviews:

(1 review)
Bitcoin Basics: Buying, Selling, Creating and Investing Bitcoins – The Digital Currency of the Future (bitcoin, bitcoin beginner, bitcoin mining Book 1)
by Benjamin Tideas
Genre: Education
Reviews:

(21 reviews)
Find more recent Kindle freebies here. Remember that Amazon.com prices change all the time, so be sure to verify that each book is still free before you "purchase" it!