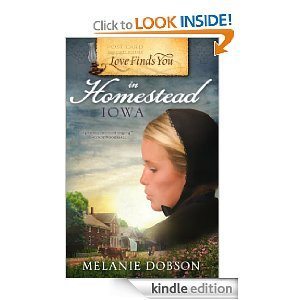 Looking for more books for your Kindle? Kindle freebies are my absolute favorite way to add new books to my collection and discover new authors! Here are today's freebies:
Love Finds You in Homestead, Iowa
by Melanie Dobson
Genre: Historical Romance
Reviews: 5.5 stars (10 reviews)
Sons of Thunder (Brothers in Arms Collection)
by Susan May Warren
Genre: Historical Fiction
Reviews: 4.5 stars (24 reviews)
A Stranger in the Family (Book 1: Bardville Trilogy)
by Patricia McLinn
Genre: Contemporary Fiction
Reviews: 5 stars (2 reviews)
Girl on the Beach
by Sandra Thompson
Genre: Suspense
Reviews: 4.5 stars (3 reviews)
The End of Boys
by Peter Brown Hoffmeister
Genre: Memoir
Reviews: 4 stars (8 reviews)
Teen-Proofing: A Revolutionary Approach to Fostering Responsible Decision Making in Your Teenager
by John Rosemond
Genre: Parenting
Reviews: 4.5 stars (33 reviews)
Find more Kindle freebies here. Remember that Amazon.com prices change all the time, so be sure to verify that each book is still free before you "purchase" it!