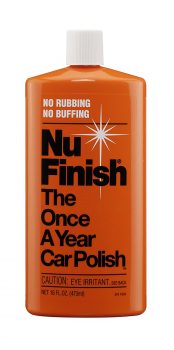 (710 reviews)
Lowest price to-date!
This Nu Finish Liquid Car Polish is on sale right now for $4.89 with FREE shipping with a qualifying order of $49 or more!
Rated #1 car polish by leading consumer testing magazines for protection, durability, gloss improvement and best retail value.

Both liquid and paste versions are the only products to have been rated #1 by the leading U.S. consumer testing magazine.

No heavy rubbing, no heavy buffing formula and can be applied in direct sunlight.

Only car polish product on the market that contains no wax.

Can also be used to protect: fiberglass boats, airplanes and motorcycles, as well as various household items.
Add-on items can only be purchased with a qualifying orders that include $25 or more of items shipped by Amazon (marked by the Free Super Saver Shipping, Amazon Prime or Add-On Item icon).