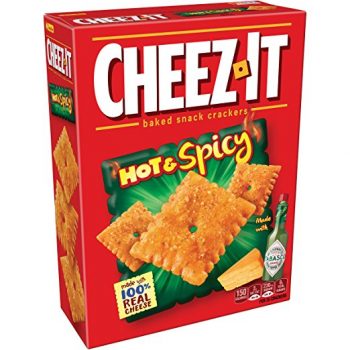 (88 reviews)
Lowest price to-date!
Get your 12.4-ounce box of Cheez-It Hot and Spicy Crackers for $2.50 with FREE shipping with a qualifying order of $49 or more!
Satisfy your spicy craving with a kick of jalapeno and 100% real cheese in every crunchy bite of Cheez-It Hot & Spicy Baked Snack Crackers.

Cheez-It crackers are the perfect spicy snack for any occasion. Ideal for an on-the-go bite or bold afternoon break—the delicious cheese options are endless.

Cheez-It crackers are baked with 100% real cheese that's been carefully aged for a one-of-a-kind taste. Ingredients contain wheat, milk and soy.

This product ships as a 12.4-ounce box that's perfect for shared and solo snacking.
Add-on items can only be purchased with a qualifying orders that include $25 or more of items shipped by Amazon (marked by the Free Super Saver Shipping, Amazon Prime or Add-On Item icon).