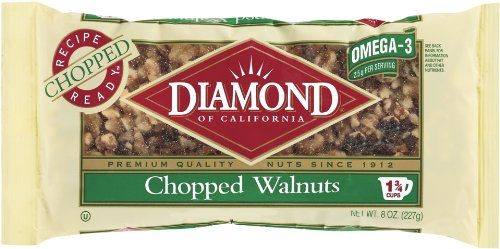 Start shopping for your Prime Pantry box with this 8-unce package of Diamond Chopped Walnuts for $3.99!
Contains 1 – 8 ounce bag of Chopped Walnuts.

About 2 cups (8 servings per container) of Premium, California-grown walnuts – known for their alluring light color, crisp tangy exterior, and light, buttery flavor – chopped to perfection and recipe ready.

Non-GMO Project Verified, No Cholesterol, No Sodium, 2.5g Omega-3s and only 4g Carbohydrates per serving, Certified Kosher.

Farm to Table Flavor, Harvested & Packaged Fresh in California's Central Valley.

Diamond Nuts are unseasoned and perfect for baking, cooking, snacking or adding as a topping to your favorite salad, dessert, yogurt, cereal, or granola. We believe that adding nuts makes good food even better!
Remember, Prime Pantry boxes hold up to 45 pounds or 4 cubic feet of groceries and ship for $5.99, so you want to get your box as full as possible before checking out.