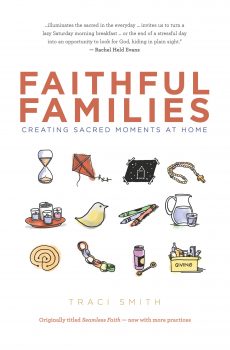 Right now, Faithful Families: Creating Sacred Moments at Home by Traci Smith is FREE for the Kindle!
A new and expanded version of Seamless Faith, now with more than a dozen new spiritual practices and additional resources for parents, kids, grandparents, and communities that care about families!
Add family faith moments to your daily routine with little or no prep, and share meaningful spiritual experiences with your children! Traci Smith, a pastor and mother of three, offers ways to discover and develop new spiritual practices as a family, whether you're a new seeker or a lifelong follower. Faithful Families is brimming with easy, do-it-yourself ideas for transforming your family's everyday moments into sacred moments!
Faithful Families helps you: connect faith to your family's everyday life; add family faith moments into your daily routine; learn new spiritual practices alongside your children; teach your children to appreciate religious diversity with time-tested non-Christian and Christian spiritual practices; respond to life's everyday challenges and opportunities with meaningful practices
Faithful Families is the perfect gift for Parents, Grandparents, Aunts and Uncles; Baptisms; Baby Showers; New Families; Christian educators and those they serve; Preschool Classes; and Godparents
Even if you don't have a Kindle, you can read the ebook on a variety of devices (including your computer) using one of Amazon's free reading apps.