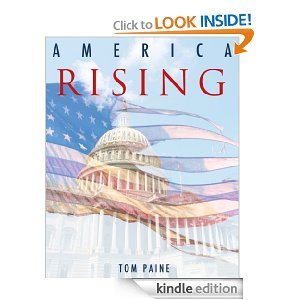 Looking for more books for your Kindle? Here are today's freebies:
Don't miss any freebies! Subscribe to get a daily list delivered by email or in a feed reader.
America Rising
by Tom Paine
Genre: Mystery & Thrillers
Reviews:

(10 reviews)
Stigma
by Philip Hawley, Jr.
Genre: Action & Adventure
Reviews:

(42 reviews)
Dead Pan
by Gayle Trent
Genre: Mystery
Reviews:

(20 reviews)
Truffles by the Sea
by Julie Carobini
Genre: Inspirational Fiction
Reviews:

(16 reviews)
Farm Fun (Big Beak Books First Learners)
by Peter Lawson
Genre: Children's Book
Reviews:

(8 reviews)
Spot the Differences: Animals! (A Seek & Spot Picture Book)
by Christie Collins
Genre: Children's Book
Reviews: No reviews yet!
I'll Follow the Moon (Mom's Choice Award Honoree and Chocolate Lily Award Winner)
by Stephanie Lisa Tara
Genre: Children's Book
Reviews:

(34 reviews)
Blind But Now I See: The Biography of Music Legend Doc Watson
by Kent Gustavson
Genre: Biography
Reviews:

(17 reviews)
Cheffin'
by Brendan Cronin
Genre: Memoir
Reviews:

(12 reviews)
'Chill': The Brain-Smart Way of Beating Stress and Boosting Success
by Stacy Barnett
Genre: Personal Development
Reviews:

(9 reviews)
Social Media for Business
by Martin Brossman
Genre: Marketing
Reviews:

(10 reviews)
Find more recent Kindle freebies here and a long list of Kindle freebies here. Remember that Amazon.com prices change all the time, so be sure to verify that each book is still free before you "purchase" it!