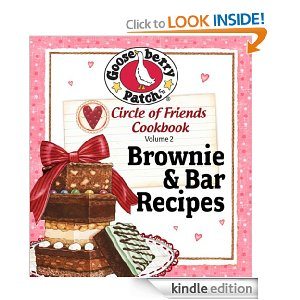 Looking for more books for your Kindle? Here are today's freebies:
Angel Sister
by Ann H. Gabhart
Genre: Historical Fiction
Reviews:

(40 reviews)
Dunaway's Crossing (Historical Women's Fiction)
by Nancy Brandon
Genre: Historical Romance
Reviews:

(26 reviews)
Pearl in the Sand
by Tessa Afshar
Genre: Biblical Fiction
Reviews:

(84 reviews)
Pet Whisperer…er…rrr: Book 1 of the "Animals Talk Back" Serial
by Carolyn McCray & Ben Hopkin
Genre: Humor
Reviews:

(3 reviews)
Too Close to Miss
by John Perich
Genre: Mystery & Thriller
Reviews:

(12 reviews)
Circle of Friends Cookbook 25 Brownie & Bar Recipes
by Gooseberry Patch
Genre: Cookbook
Reviews:

(1 reviews)
In Good Taste: Create Your Own Family History Cookbook
by Nancy J Miles
Genre: Lifestyle & Home
Reviews:

(2 reviews)
What's Your Secret?: Freedom through Confession
by Aaron Stern
Genre: Christian Living
Reviews:

(9 reviews)
Let's Get Digital: How To Self-Publish, And Why You Should
by David Gaughran
Genre: Writing
Reviews:

(78 reviews)
Find more Kindle freebies here. Remember that Amazon.com prices change all the time, so be sure to verify that each book is still free before you "purchase" it!