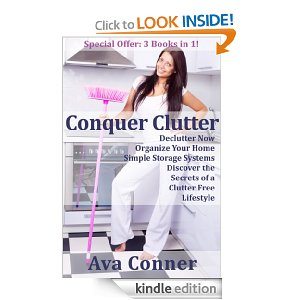 Looking for more books for your Kindle? Here are today's freebies:
Don't miss any freebies! Subscribe to get a daily list delivered by email or in a feed reader.
Seeing Julia (Contemporary Fiction)
by Katherine Owen
Genre: Contemporary Fiction
Reviews:

(58 reviews)
Almost Perfect
by Denis Domning
Genre: Historical Fiction
Reviews:

(12 reviews)
Around the World in 80 Dates: Confessions of a Christian Serial Dater (Sydney Alexander Series, Book 1)
by Christa A. Banister
Genre: Inspirational Fiction
Reviews:

(23 reviews)
Confessions
by Ryne Douglas Pearson
Genre: Thrillers
Reviews:

(28 reviews)
That Bear Ate My Pants! Adventures of a real Idiot Abroad
by Tony James Slater
Genre: Travel Memoir
Reviews:

(59 reviews)
Love Of Cooking: Chicken (Love of Cooking: Volume II)
by Maggie Brooks
Genre: Cookbook
Reviews:

(9 reviews)
30 Delicious Brownie & Bar Recipes
by Lori Burke
Genre: Cookbook
Reviews:

(13 reviews)
Conquer Clutter Collection: Declutter Now, Organize Your Home, Simple Storage Systems
by Ava Conner
Genre: Home & Garden
Reviews:

(1 reviews)
Farming As A Spiritual Discipline
by Ragan Sutterfield
Genre: Christian Living
Reviews:

(10 reviews)
The Power of Impossible Thinking: Transform the Business of Your Life and the Life of Your Business
by Colin Crook, Robert E. Gunther, Yoram R. Wind
Genre: Management & Leadership
Reviews:

(67 reviews)
Find more recent Kindle freebies here and a long list of Kindle freebies here. Remember that Amazon.com prices change all the time, so be sure to verify that each book is still free before you "purchase" it!