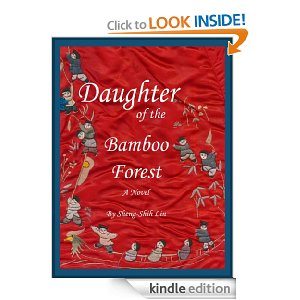 Looking for more books for your Kindle? Here are today's freebies:
Don't miss any freebies! Subscribe to get a daily list delivered by email or in a feed reader.
Daughter of the Bamboo Forest
by Shengh-Shih Lin
Genre: Literary Fiction
Reviews:

(30 reviews)
Magnificent Redemption
by Marc Little
Genre: Inspirational Fiction
Reviews:

(2 reviews)
The Constantine Codex (Skeleton Series)
by Paul L. Maier
Genre: Suspense / Inspirational Fiction
Reviews:

(47 reviews)
Someone's Watching
by Sharon Potts
Genre: Thriller
Reviews:

(27 reviews)
The Girl with the Cat Tattoo (Book One of the Cool Cat Trilogy)
by Anne Frasier
Genre: Romantic Mystery
Reviews:

(6 reviews)
Top Pizza Recipes: 30 Best Recipes Delicious & Easy To Make (Illustrated)
by Amanda Miocic
Genre: Cookbook
Reviews:

(7 reviews)
Get Skinny Stay Skinny (Eat Better Feel Better)
by Cindy Sue
Genre: Cookbook
Reviews:

(8 reviews)
The Quinoa Cookbook: Everyday Superfood Recipes
by John Chatham
Genre: Cookbook
Reviews:

(18 reviews)
Homemade Cosmetics: Over 100 Recipes You Can Make at Home
by Kirsten Anderberg
Genre: Beauty & Health
Reviews:

(1 reviews)
How to Declutter Your Home for Simple Living
by Judith Turnbridge
Genre: Home & Garden
Reviews:

(3 reviews)
Weekend Homesteader: January
by Anna Hess
Genre: Home & Garden
Reviews:

(5 reviews)
Every Item on Sale: How to Slash Your Grocery Bill By Over 50%
by Janice Kitson
Genre: Personal Finance
Reviews:

(10 reviews)
Find more recent Kindle freebies here and a long list of Kindle freebies here. Remember that Amazon.com prices change all the time, so be sure to verify that each book is still free before you "purchase" it!