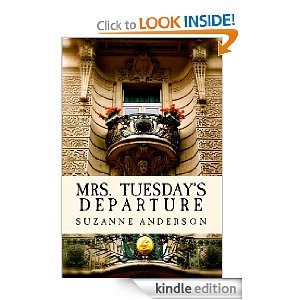 Looking for more books for your Kindle? Here are today's freebies:
Mrs. Tuesday's Departure
by Suzanne Anderson
Genre: Contemporary Fiction
Reviews:

(9 reviews)
Southern Seahawk: A Novel of the Civil War at Sea (Seahawk Trilogy)
by Randall Peffer
Genre: Historical Fiction
Reviews:

(2 reviews)
The Politician's Wife (The Blessed and Highly Favored Series-Book 4)
by Vanessa Miller
Genre: Contemporary Fiction
Reviews:

(6 reviews)
Never Smile at Strangers
by Jennifer Minar-Jaynes
Genre: Mystery & Thrillers
Reviews:

(39 reviews)
Breaking the Chain: How I Banned Chain Restaurants From My Diet And Went From Full To Fulfilled
by Allyson Reedy
Genre: Food
Reviews:

(5 reviews)
Bringing the Thunder: The Missions of a World War II B-29 Pilot in the Pacific (Stackpole Military History Series)
by Gordon Bennett Robertson
Genre: World War II
Reviews:

(13 reviews)
A Killing in Iowa: A Daughter's Story of Love and Murder (Kindle Single)
by Rachel Corbett
Genre: Memoir
Reviews:

(42 reviews)
Ageless Beauty & Timeless Strength: A womens guide to building upper body strength without any special equipement
by Howard VanEs
Genre: Exercise
Reviews:

(8 reviews)
Find more Kindle freebies here. Remember that Amazon.com prices change all the time, so be sure to verify that each book is still free before you "purchase" it!