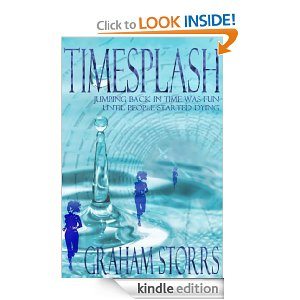 Looking for more books for your Kindle? Here are today's freebies:
Don't miss any freebies! Subscribe to get a daily list delivered by email or in a feed reader.
TimeSplash
by Graham Storrs
Genre: Science Fiction
Reviews:

(37 reviews)
Every Bush Is Burning
by Brandon Clements
Genre: Inspirational Fiction
Reviews:

(44 reviews)
Quick Fix Healthy Breakfasts Under 300 Calories: That Keep You Feeling Energized and Help You Lose Weight
by Corina Tudose
Genre: Cookbook
Reviews:

(8 reviews)
Vintage Cookie Recipes
by Amy Renee
Genre: Cookbook
Reviews:

(13 reviews)
Anti-Aging By Choice: Smoothies to Look and Feel Younger
by Sandra Douglas
Genre: Cookbook
Reviews:

(6 reviews)
Epcot 2012: A Planet Explorers Travel Guide for Kids
by Laura Schaefer
Genre: Travel
Reviews:

(5 reviews)
Easy Savings Tips for Busy People
by Sarah Fuller
Genre: Personal Finance
Reviews:

(2 reviews)
How To Use Pinterest – How To Share Your Ideas, Brand Yourself and Have Fun Playing Around on Pinterest
by Kate Buck Jr
Genre: Social Media
Reviews:

(30 reviews)
Find more recent Kindle freebies here and a long list of Kindle freebies here. Remember that Amazon.com prices change all the time, so be sure to verify that each book is still free before you "purchase" it!