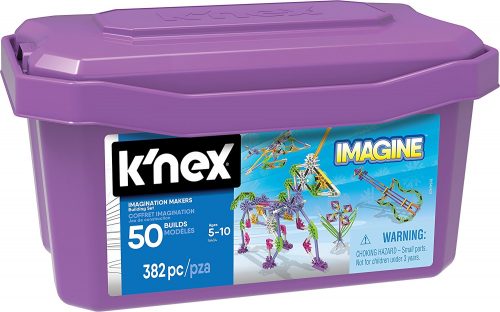 (18 reviews)
Lowest price to-date!
The 382-count building set of K'NEX Imagination Makers is available now at the lowest price to-date – $21.25!
382 CLASSIC K'NEX PIECES – The K'NEX Imagination Makers 50 Model Building Set contains 382 classic -sized K'NEX rods and connectors. This set features a brighter and lighter color palette.

50 BUILDING IDEAS – This set lets your children create structures that showcase their creativity. It includes 50 building ideas that let your children craft everything from basic shapes to animal figures with the 382 pieces!

REUSABLE STORAGE TUB – This building set comes in a plastic tub that provides easy storage of models and loose pieces. Pack the colorful pieces into the container and bring it with you on family trips!

INSTRUCTION SHEET INCLUDED – Let your kid enjoy building a variety of models with this building set! It comes with an instruction sheet that has step-by-step procedures for building the 50 suggested models.

STEAMagination™ – It's the connection of STEAM (science, technology, engineering, arts & math) with a child's natural curiosity and creativity and it powers the fun of each and every K'NEX® building set.  Building with K'NEX puts children on a path towards a fundamental understanding of STEAM/STEM subjects.

DEVELOPMENTAL BENEFITS – K'NEX supports key areas of a child's developmental growth.  As they click the different parts together and discover how the building system works, they're strengthening hand-eye coordination, fine motor skills, problem-solving skills, spatial awareness and exercising their imagination!

COMMITMENT TO QUALITY– K'NEX rods and connectors are responsibly made in America at a landfill-free, zero-waste green manufacturing facility in Hatfield, Pennsylvania.  We test to the strictest quality and safety standards, ensuring that your child has a successful, trouble-free building experience.

PARTS GUARANTEE – Broken part?  Missing part?  If you find yourself in need of a replacement for any reason, just give us a call!  We'll get you what you need so that your child can get back to building as soon as possible.
Search for cart fillers for items to help you reach the $49 FREE Super Saver Shipping level. Or if you haven't yet tried Amazon Prime, sign up for a 30-day trial and get FREE 2-day shipping!