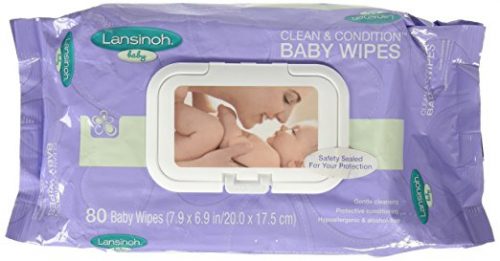 (21 reviews)
Lowest price to-date!
This 80-count pack of Lansinoh Clean & Condition Cloths for Babies is on sale now for $3.28 with FREE shipping with a qualifying order of $49 or more!
Made especially for baby's bottom and contain Lansinoh Brand Lanolin* which provides gentle, thorough cleansing while protecting your baby's sensitive skin between diaper changes.

Clean & Condition Cloths were developed with the specific needs of breastfed babies in mind.

Conditions skin to prevent dryness and chaffing by creating a moisture barrier.

Provides a protective barrier between diaper changes.

Gentle Alcohol-free formula for more frequent cleansing.

Special spun-lace fabric for extra strength and silky softness

It is unique in its ability to assist the skin in regaining and maintaining the proper moisture content essential to healthy, supple skin.
Add-on items can only be purchased with a qualifying orders that include $25 or more of items shipped by Amazon (marked by the Free Super Saver Shipping, Amazon Prime or Add-On Item icon).