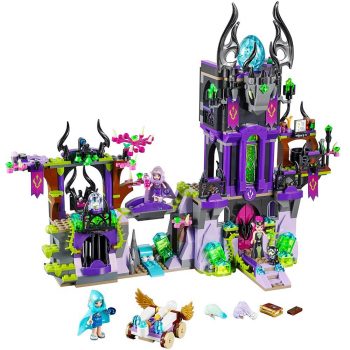 (70 reviews)
Lowest price to-date!
This 1014 piece LEGO Elves Ragana's Magic Shadow Castle Building Kit is on sale right now for $58.39!
Features a 3-story castle with opening door, trapdoor into the dungeon, tilting bridge, living room and fireplace on the ground floor and a bedroom and bed with a secret hiding place.

Accessory elements include the Book of Dragons, an hourglass, special capes and hoods, map, bottles, cherries, hairbrush, torch, hand mirror, 2 sushi-decorated bricks, cup, magic staff, water bowl, sink, soap, mirror, cauldron, and a potion recipe.

Includes Ragana, Naida and Aira mini-doll figures, plus Estari the baby Princess dragon and Jynx the evil cat.

Includes a treetop bed for Jynx, banners for the castle, vanity room with mirrors for Ragana and Jynx, and beauty products.

Magic Shadow Castle measures over 11″ (30cm) high, 14″ (38cm) wide and 5″ (14cm) deep.

This enchanting toy for girls and boys offers an age-appropriate building experience for ages 8-12.