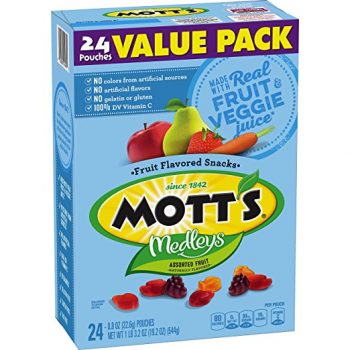 Start shopping for your Prime Pantry box with this Mott's Assorted Fruit Flavors Value Pack for $3.94!
Mott's Medleys Fruit Flavored Snacks, Assorted, 24 Count.
Made with real fruit and veggie juice.
Made with natural flavors and colors from natural sources.
One snack pouch of Mott's Medleys Fruit Flavored Snacks contains 100% daily value vitamin C.
Contains no gelatin or gluten.
Free shipping with 5 qualifying Pantry items!
Remember, Prime Pantry boxes hold up to 45 pounds or 4 cubic feet of groceries and ship for $5.99, so you want to get your box as full as possible before checking out.