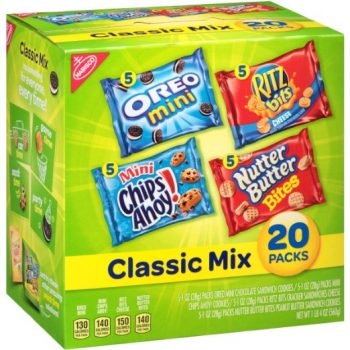 (317 reviews)
Lowest price to-date!
Pick up Nabisco Classic Cookie and Cracker Mix (20-Count Box) for just $6.74 with FREE shipping with a qualifying order of $49 or more!
Make your next party or gathering a hit with the Nabisco Classic Cookie and Cracker Mix.

This classic mix of sweet and savory snacks includes mini versions of party favorites that are sure to please guests of any age.

Perfect all on their own, kids and adults can also pair these treats with spreads, fruit, and ice cream for a fun and delicious party-time activity.

Each individually sealed pack locks in freshness and is perfectly portioned for gatherings, lunchboxes, road trips, and more.

The Nabisco Classic Cookie and Cracker Mix comes with one 20-pack box containing five packs each of Oreo Mini, Mini Chips Ahoy!, Ritz Bits Cheese, and Nutter Butter Bites.
Add-on items can only be purchased with a qualifying orders that include $25 or more of items shipped by Amazon (marked by the Free Super Saver Shipping, Amazon Prime or Add-On Item icon).