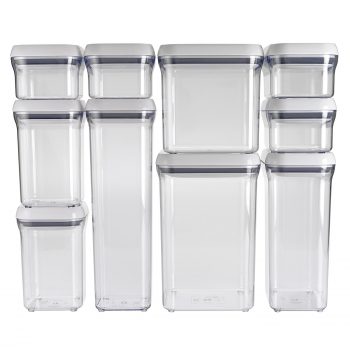 (589 reviews)
Lowest price so far!
Pick up your 10-piece value set of OXO Good Grips Airtight Food Storage POP Containers for $79.96!
Set includes: one 4.0 qt Container, one 2.5 qt Container, one 2.4 qt Container, one 2.1 qt Container, two 0.9 qt Containers, two 0.5 qt Containers, two 0.3-quart Containers.

10 Piece Value Set provides a savings of $24.91/19.94%.

These airtight, space-saving storage containers keep your dry foods fresh and your pantry organized.

Push the button for an airtight seal, push again to release. Button pops up to double as a built-in handle.

Shaped for maximum space efficiency; these stackable, modular canisters can be completely customized to fit any space.

Each size is perfectly calibrated to store common household staples including cereal, flour, sugar, pasta, rice, coffee, nuts, snacks and more.

Rounded corners are designed for easy pouring and lid unsnaps for thorough cleaning; silicone seal is dishwasher safe, hand wash other parts.

Also great for storing crafts and toys, in the bathroom or office – the possibilities are endless.