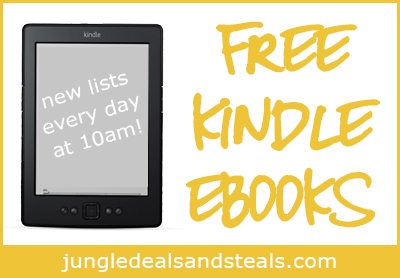 Looking for more books for your Kindle? Here are today's Kindle freebies!
Fiction
TIGER: Shaolin Darkness Thriller (Contemporary Martial Arts Action Series Book 1)
by Wesley Robert Lowe
Genre: Thrillers
Reviews:

(15 reviews)
In Name Only (O'Donovan Family Book 1)
by Ellen Gable
Genre: Religious
Reviews:

(300 reviews)
Children's
Sniffin' & a Snoofin' (Puppy Pug Tails)
by Laura Yirak
Genre: Bedtime
Reviews:

(11 reviews)
Boy Does Trash Fly!: A Recycling Story (Conservation Series Book 1)
by James Thomas
Genre: Recycling
Reviews:

(2 reviews)
The Spooky Halloween Night
by Engi Sloan
Genre: Imagination
Reviews:

(7 reviews)
Non-Fiction
Essential Oils & Aromatherapy for Beginners 3rd Edition: Secrets to Beauty, Health and Weight Loss Using Proven Essential Oil and Aromatherapy Recipes … Oils for Fitness & Health, Beauty)
by Lindsey P
Genre: Aromatherapy
Reviews:

(42 reviews)
Easy To Be Vegan: Overcoming All The Challenges and Difficulties of Becoming a Vegan (Vegan diet, Vegan, Vegan lifestyle, Vegan recipes, Healthy vegan, Veganism, Plant Based Diet)
by Sivan Berko
Genre: Vegan
Reviews:

(1 review)
Get Ripped Now! Clean Eating Workout Guide for Weight Loss and a Healthy Lifestyle
by Kent Burden
Genre: Weight loss
Reviews:

(13 reviews)
Smoothie Recipes For Kids: A Smoothie for Every Mood and Time
by YLY Publishing
Genre: Beverages
Reviews:

(5 reviews)
Find more recent Kindle freebies here. Remember that Amazon.com prices change all the time, so be sure to verify that each book is still free before you "purchase" it!