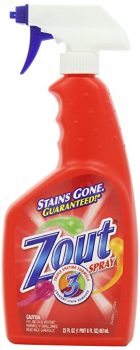 (442 reviews)
Lowest price to-date!
This 22-ounce bottle of Zout Triple Enzyme Formula Laundry Stain Remover Spray is on sale now for $3.99 with FREE shipping with a qualifying order of $49 or more!
The first enzyme helps remove tough protein stains such as blood, grass and sweat.
The second enzyme works on starch stains like tomato & bbq sauces.
The third enzyme targets oily stains like salad dressing, and margarine.
Add-on items can only be purchased with a qualifying orders that include $25 or more of items shipped by Amazon (marked by the Free Super Saver Shipping, Amazon Prime or Add-On Item icon).