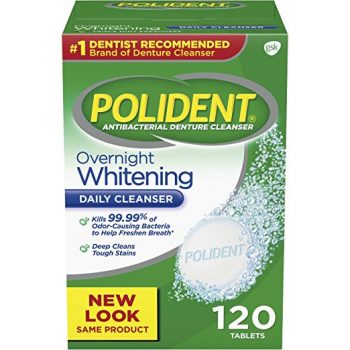 (293 reviews)
Lowest price to-date!
Right now, get Polident Overnight Whitening Antibacterial Denture Cleanser Effervescent Tablets (120 count) for $5.88 with FREE shipping with a qualifying order of $49 or more!
Deep cleans to help restore dentures to their original color.
Kills more bacteria than toothpaste,* (when soaking only, in laboratory tests).
Kills 99.99% of odor-causing bacteria in laboratory tests.
When used as directed, helps to reduce plaque and also removes tough stains.
Gentle on denture material.
Add-on items can only be purchased with a qualifying orders that include $25 or more of items shipped by Amazon (marked by the Free Super Saver Shipping, Amazon Prime or Add-On Item icon).