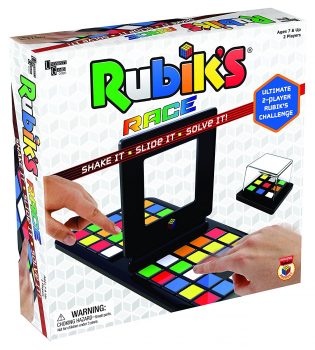 (131 reviews)
Lowest price so far!
You can pick up the Rubik's Race Game now for $11.99!
Shake it – Slide it – Solve it! Competitive Rubik's Race from University Games is a head-to-head puzzle challenge.

Be the first to match the pattern on the scrambler and shut the frame.

Shake the scrambler and then race to slide your colored panels to mimic the pattern.

Contains game base, center frame, 48 colored tiles, scrambler, 9 colored mini-cubes and instructions.

For 2 players, ages 7 and up.
Search for cart fillers for items to help you reach the $49 FREE Super Saver Shipping level. Or if you haven't yet tried Amazon Prime, sign up for a 30-day trial and get FREE 2-day shipping!