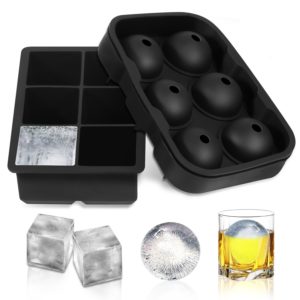 (168 reviews)
Lowest price to-date!
These unique ice cube trays make a great addition to your bar collection or as a gift.
Give You a Wonderful Summer Taste
Use our spherical and square ice molds to cool your summer.
Enjoy the happiest moment that drink a glass of iced whiskey after tiring work.
Make delicious snack such as pudding, chocolate, fruit jelly, mousse cake, etc.
Six Giant Ice Balls & Six Bigger Ice Cubes
Our ice tray combo includes a spherical mold (7 X 4.7 X 1.9inches) and a square mold (6.5 X 4.5 X 2inches), which can freeze six 1.78″ ice balls and six 2″ ice cubes.
They are larger to melt slower, avoiding watering down flavorous beverages. To make a perfect spherical ice balls, just gently pour the water in through the small
hole at the top until they are full, and then put it into your fridge carefully.
Why Choose Toplus Ice Tray Combo
FDA approved & BPA free
Food grade silicone
Easy clean
Dishwasher safe
Multiple shapes
Freezer safe & Easy release
Package Includes
(Ice balls mold + Ice tubes mold)
Warm Tips
1.Silicone products may have some odor left by the molding process, you could use following method to remove smell.
2.Before using, please clean the product with running water, and then dip it into the hot water to disinfect for several minutes.
3.After using, please clean the product and store it in the clean and dry place, avoiding direct sunlight.
SMELL REMOVING METHODS
1.Clean the product with cleanser, and then dip it into hot water for 2 hours.
2.Clean the product with cleanser first. Pour two tablespoons of milk into the product and then shake product about 1 minute and clean it again.
3.Clean the product with cleanser, and then put it into a sealed box with orange peels for 4 hours.
4.Brush the product with toothpaste slowly, and then clean the toothpaste foam.
5.Place the product in ventilation for 20 minutes.