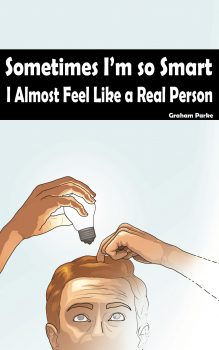 Right now, Sometimes I'm So Smart I Almost Feel Like a Real Person by Graham Parke is FREE for the Kindle!
Anyone can be forgotten. No matter how wonderful they are, no matter how unlikely they brim with kindness and inner beauty, you can get over anyone. The only trick is really wanting to.
This is what Harold believes. He has no choice…
Severe introvert by day, misguided dating guru by night, Harold starts a Youtube channel to workshop his elaborate strategies for seducing Emma, the girl of his dreams. But when he finally works up the courage to ask her out, he discovers that Emma is only using him to get fodder for her own dating blog – the one she's set up to test ways to seduce Leopold.
As it turns out, Leopold is actually one of Harold's dedicated followers. When he savagely misunderstands and mis-applies Harold's advice, he suddenly finds himself hugely successful with the ladies, Emma included.
Faced with this strange new problem, Harold comes up with what he believes to be the strategy to end all strategies.
Even if you don't have a Kindle, you can read the ebook on a variety of devices (including your computer) using one of Amazon's free reading apps.