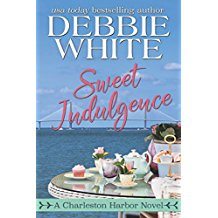 Right now, Sweet Indulgence by Debbie White is on sale for $0.99 for your Kindle!
Annie McPherson had her hands full as the owner and operator of the Sweet Indulgence, a cupcake bakery. What she really needed was more staff to help her run the place not the distraction of a good-looking man. She'd sworn off dating after her last broken heart.
Jack just wanted to pick up the cupcakes for his niece's birthday party. He never expected to be pulled in by her good looks, witty charm and sweet disposition. He'd just been through a gut-wrenching break-up and women were the last thing on his mind.
But when you're sweet as the cupcakes you bake and serve, people notice. And Annie had Jack Powell's complete attention.
Sweet Indulgence is the first book of the Charleston Harbor Novels and is a sweet women's fiction/romance.
Even if you don't have a Kindle, you can read the ebook on a variety of devices (including your computer) using one of Amazon's free reading apps.