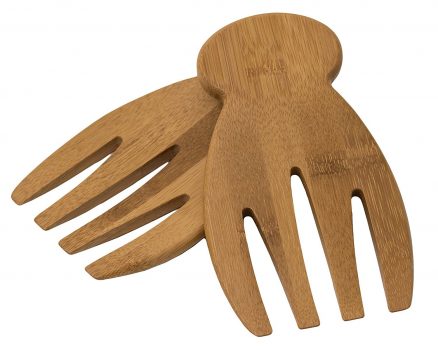 (273 reviews)
Lowest price to-date!
This set of Totally Bamboo Salad Hands 100% Organic Bamboo Salad Servers + Serving Tongs is on sale right now for $5.99!
100% SATISFACTION GUARANTEE → When you order your Totally Bamboo Salad Hands – Salad Server today, your now part of our Family and you're protected by our replacement warranty + world class customer service!!

THE #1 SALAD SERVER! → Totally Bamboo Salad Hands are not only THE "original" salad hands but are the perfect tool to toss and serve salad; excellent for entertaining or everyday use. Each Salad Hand measures approximately 7″ long by 4″ wide. Thumb on the back of each salad hand hooks on edge of bowl, prevents it from slipping into the salad.

ORGANIC → Organically Grown; NO Fertilizers, Pesticides or artificial irrigation and ZERO chemicals. Feel good about cooking with bamboo as it does not leach toxic chemicals into your food while cooking like the plastic alternatives do.

EASY TO CLEAN → Bamboo is easy to clean and fights bacteria naturally.. Be sure to HAND WASH and periodically apply Totally Bamboo's mineral oil to keep bamboo fibers strong and beautiful.

RENEWABLE → Made of Moso bamboo which is known for its strength, density and high quality; bamboo is one of the most renewable resources in the world as it's the Fastest growing, NO clear cutting, NO erosion & NO replanting needed.
Search for cart fillers for items to help you reach the $49 FREE Super Saver Shipping level. Or if you haven't yet tried Amazon Prime, sign up for a 30-day trial and get FREE 2-day shipping!