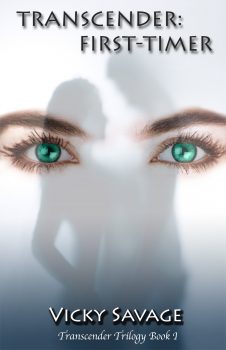 Right now, Transcender: First-Timer by Vicky Savage is FREE for the Kindle!
Missing her school prom isn't the worst thing that's ever happened to Jaden Beckett. Her mom died suddenly last year, and her dad has all but checked out emotionally. But after a freak electrical storm catapults her into a parallel version of earth where nations are housed beneath gigantic domes, she finds herself facing a whole new world of challenges.
Kidnapped by mysterious swordsmen on horseback, Jaden escapes with the help of an agent from the powerful Inter-Universal Guidance Agency—the self-appointed destiny police. Agent Ralston vows to return her to her quiet Connecticut life as soon as he is able, but in the meantime, she's forced to assume the identity of her doppelganger in Domerica, who just happens to be a member of the ruling family. Though a reluctant imposter at first, Jaden soon discovers some wonderful news—her mom is alive in Domerica, and her new lifestyle is luxurious beyond belief. Then, when she unexpectedly falls for the mysterious outlaw, Ryder Blackthorn, she realizes she is hopelessly torn between worlds.
To make matters worse, as the time draws near for Jaden's journey home, she discovers Agent Ralston has concealed a vitally important secret from her—one that will change the course of her entire future. What results is Jaden's extraordinary struggle for control of her own destiny and the freedom to pursue the tempestuous love affair that transcends space and time.
Even if you don't have a Kindle, you can read the ebook on a variety of devices (including your computer) using one of Amazon's free reading apps.