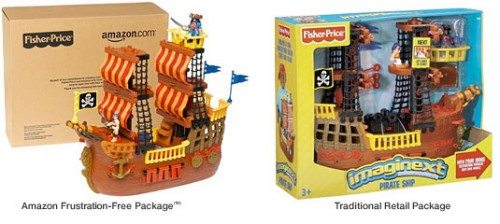 Amazon works closely with manufacturers to package select items in Certified Frustration-Free Packaging, which is:
easy to open
recyclable
shipped in its own package without an additional shipping box
Frustration-free packaging comes without hard plastic clamshell casings, plastic bindings or wire ties and can be opened without a box cutter or knife. It eliminates extra packing materials and the frustration of fighting to get a box open.
See all of the items with the Frustration-Free Packaging option here.
Please note that Frustration-Free Packaging does not contain the UPC codes you need for many rebate offers, so you may still want to choose traditional packaging when submitting a rebate.