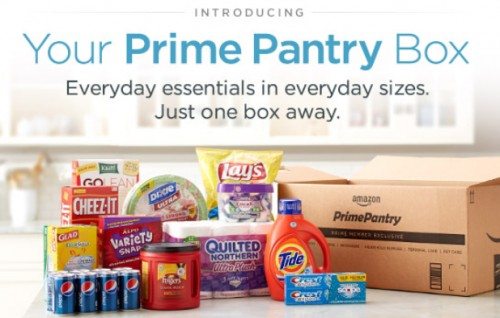 Amazon Prime Pantry is an exciting new benefit for Amazon Prime members.
With Prime Pantry, you're able to select single sizes of thousands of everyday products to add to your Pantry box. The box holds up to 45 pounds or four cubic feet of household products (and an indicator shows you how full your box is as you add each item) and ships for just $5.99.

Choose from thousands of products, including Food & Snacks, Cooking, Beverages, Household, Personal Care, Health & Nutrition, Baby Care and Pet Care.
And be sure to watch for coupons (up to 25% off!) on your favorite products as well!
Using this new feature effectively will definitely take some planning to maximize the benefit (you'd really want to get a full box of food to offset the small shipping charge), but you can start adding items to your box now and keep adjusting until you're ready to check out.
If you're not yet an Amazon Prime member, this is definitely one more reason to consider joining!